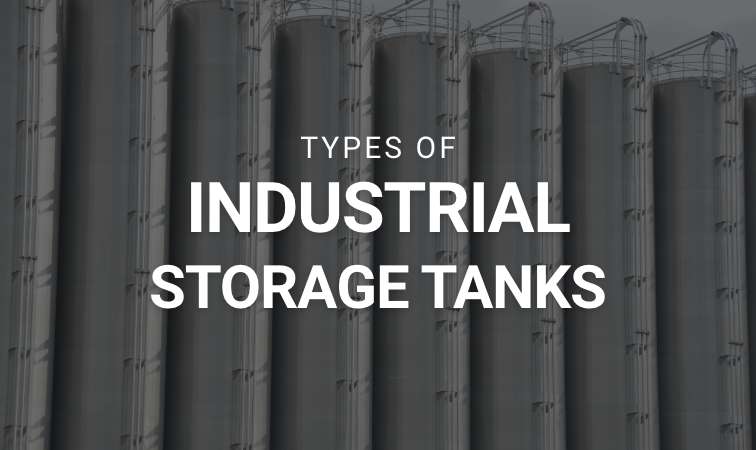 07 Dec

Eight Types of Industrial Storage Tanks
There are different types of storage tanks whose usage is based on several factors. For example, what's being stored in the tank? Is it liquid or solid? How much does the industrial tank need to hold? We'll discuss the different types of industrial storage tanks, which is the best for your job site and how Dragon can help you find a solution for your storage tank needs.
1. Industrial Frac/Mud Tank
These large, heavy-gauge steel containers are used to store chemicals or liquids like saline water, petroleum products, manure and proppants. Several types of industrial storage tanks can be used as frac/mud tanks — the one you choose will be based on how you plan to use it:
2. Industrial Storage Tanks for Fuel
This type of industrial storage tank is typically used to store both non-organic and organic fluids. It's also able to hold vapor from flammable liquids. Simple to install and maintain, these industrial fuel tanks can easily be checked for leaks so the necessary repairs can be made.
What Are the Benefits of Fuel Storage Tanks?
Companies that need to safely store fuel and other flammable fluids need this type of industrial tank. These tanks are standard certified containers providing safe housing for solvents, oil, petrol, diesel, chemicals and other hazardous and flammable liquids. A storage tank will prevent leaks and restrict any vapors from seeping out and harming the environment. Other benefits include:
Must meet industry standards: Industrial fuel tanks are required to meet stringent standards for storing hazardous materials.
Cost-effective: With a high storage capacity, industrial fuel tanks enable workers to refuel equipment without leaving the premises.
Choice of sizes: Select the industrial fuel tank with the capacity you need based on your job's requirements.
Versatile:: This type of industrial tank can hold various flammable liquids. If you have specific storage needs, talk with your manufacturer to ensure the tank you choose is suitable for the job.
3. Industrial Oil Tanks
Most commonly, oil storage tanks are used in the production, distribution and refining of petroleum oil products. Oil storage tank types include those made of various materials, depending on their application and environmental, safety and legal requirements. These materials include:
Carbon steel
Stainless steel
Reinforced concrete
Plastic
What Are Some Oil Storage Tank Types?
Based on usage, there are various types of storage tanks for oil:
Floating Roof Tank: Based on the level of oil in the tank, the roof will rise or fall. This alleviates a build-up of vapor inside the tank.
Fixed Roof Tank: This type of tank is used for lower volumes of oil when there is no concern about vapor buildup.
Bunded Tank: This double-skinned tank features an outer tank made of plastic or steel that acts as an additional barrier to prevent leaks and oil spills that can contaminate surrounding areas.
Open Top Tank: An old-style oil storage tank, it's seldom used anymore because of evaporation and fire risks.
4. Chemical Industrial Storage Tanks
Designed to store propane, fertilizers, petroleum products, natural gas, crude oil and other chemicals, these storage tanks can be used to mix, process, store and transport chemical products. Industrial chemical storage tanks are manufactured using three types of materials:
Stainless steel
Polyethylene
Fiberglass
When choosing a chemical storage tank, the most crucial consideration is the chemicals you're storing. While a water storage tank might safely contain your chemicals for a short time, if the tank hasn't been specifically designed to hold your chemicals, it could leak and result in serious health or environmental hazards.
Is Stainless Steel the Best Choice For My Industrial Tank?
Stainless steel tanks are strong and durable, but you will pay more for them. So it's a good choice if your tank will get a lot of use over a long period. However, while you can store chemicals in this type of tank, it's not suitable storage for many forms of acid, so beware if you need to store this type of substance.
What Do Polyethylene Tanks Store?
Industrial Tanks made with polyethylene are ideal for handling chemicals. They are an affordable option,along with being strong and durable. Each is designed to help protect its contents, your storage environment and the workers at your site.
Should I Consider Fiberglass Industrial Storage Tanks?
While suitable for most chemical applications, fiberglass industrial tanks have seams that are prone to leaking. They also tend to be high-maintenance. And because they are handcrafted, they may sustain damage from some chemicals that can etch the glass.
5. Industrial Tanks for Hot Water Storage
These tanks are used when a continuous hot water supply is needed. A hot water storage tank that has been efficiently insulated can retain heat for many days, reducing your fuel costs. A hot water storage tank may include an oil or gas burner system, electric immersion heater or a central heating system.
6. Industrial Liquid & Water Storage Tanks
In addition to water, these storage tanks hold liquids such as kerosene, diesel fuel, gasoline and waste oil. Based on the desired usage, you can choose from the following types of water storage tanks:
Onion Tank: Portable and easy to use, onion tanks are great for storing water during emergencies.
Pillow (Bladder) Tank: Effective in temporary situations, these industrial tanks are designed to be collapsible.
Poly Tank: Used for collecting rainwater and for housing drinking water, poly tanks are available in wastewater, mobile, above-ground tanks and more.
Fiberglass Tank: Durable and corrosive-resistant, fiberglass tanks can withstand high temperatures and are manufactured with different coatings based on your liquid storage needs.
Welded Steel Tank: These industrial storage tanks are workhorses that stand the test of time. You'll find steel tanks in various sizes and shapes to suit your application.
Corrugated Steel Tank: These liquid storage tanks are durable, versatile and affordable. Constructed of galvanized corrugated steel, they can be customized to meet your particular needs. Typically, corrugated steel tanks are used for industrial process water, rainwater collection or fire suppression.
7. Plastic Industrial Storage Tanks
Used for storing water for residential, industrial and commercial purposes, plastic industrial storage tanks are durable, lightweight and compact. They also have more flexibility than conventional storage tanks. Plastic water storage tanks are typically used in the food processing, agricultural and chemical manufacturing industries.
8. Industrial Gas Storage Tanks
The type of industrial gas storage tank you need will depend on the tank's capacity, its measurement and the container's shape. There are several types of industrial tanks for gas, the most common being:
Internal Floating Roof Tank: Used for liquids with lower melting points such as gasoline and ethanol.
Bullet Tanks: Typically employed to store liquefied bases like butane and ammonia.
Liquefied Natural Gas Tank: These industrial tanks can hold liquefied natural gas at the required temperature of -162 degrees celsius.
Whatever Types of Industrial Storage Tanks You Need, Shop Dragon Products
Whether you're storing fuel, chemicals or other liquids, Dragon has all types of industrial storage tanks. We have a variety of frac tanks for sale, and we'll help you find what's best suited for your worksite. Check out our complete line of dump trailers, drilling rigs, production equipment and so much more. Made in the USA, we're ready to deliver wherever you may be. Contact us today!